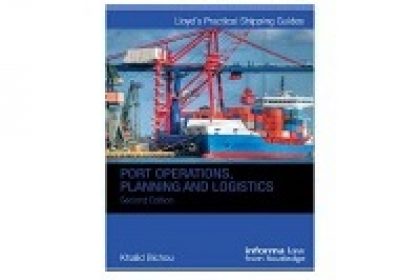 Port Operations, Planning and Logistics (Lloyd's Practical Shipping Guides)
Hardcover
– July 7, 2015
ISBN-13: 978-1616310240 ISBN-10: 1616310243 Edition: 2nd
This book provides a comprehensive and detailed analysis of world port systems. It applies both theoretical and practical approaches to port operations, management and policy, and cuts across different research fields, such as economics, engineering, operations, technology, management, strategy and policy.
The book encompasses a broad range of port topics, including design, planning, operations, ICT and technology applications, investment and financing, pricing and asset management, marketing and strategy, institutional organisation, contracts and regulations, safety and security, environmental management. The author supports each topic with case studies, practical examples and illustrations of the latest developments in the field.
This updated second edition contains new chapters on port concessions, port optimisation, and trade facilitation in ports.
This is an invaluable reference tool for all of those involved in operations, strategy and security within the ports/terminals industry worldwide, as well as shipping practitioners, academics and postgraduate students.
Editorial Reviews
About the Author
Dr Khalid Bichou is an internationally recognised port expert with advanced qualifications and over 25 years of international experience including periods in senior positions and as Consultant and Advisor to global operators, financial institutions, governments, and international agencies. Following 17 years of formal career, he has operated for the last nine years as an Independent Consultant. He has been involved in 90 consulting projects & advisory services in over 100 countries. He has also been active in professional development and training and has designed and delivered over 70 workshops for the port and transport logistics industries. Parallel to his professional career, Dr. Bichou has a strong interest in academic research and teaching. He is co-founder and member of the international advisory board of the Port Operations Research and Technology Centre (PORTeC) at Imperial College London. He is also co-founder and Coordinator of the Global Research Port Alliance (GPRA) between 8 prestigious universities in the World. He has published seven books and over 100 academic papers and policy reports. He holds visiting academic and teaching positions at several leading universities, including Imperial College, City University, LBS, UCL, MIT, and UWI.
Product Details
Series: Lloyd's Practical Shipping Guides
Hardcover: 400 pages
Publisher: Informa Law from Routledge; 2 edition (July 7, 2015)
Language: English
ISBN-10: 1616310243
ISBN-13: 978-1616310240
Shipping Information: View shipping rates and policies
Sumber:
http://www.amazon.com/Operations-Planning-Logistics-Practical-Shipping/dp/1616310243/ref=sr_1_15?ie=UTF8&qid=1432803626&sr=8-15&keywords=logistics+2015
Komentar
comments