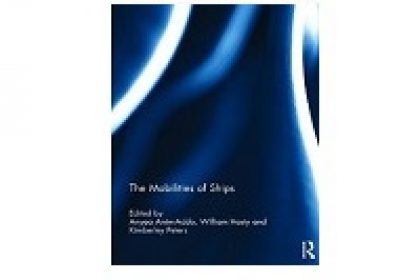 The Mobilities of Ships
by Anyaa Anim-Addo (Editor), William Hasty (Editor), Kimberley Peters (Editor)
We live in a world that is ever on the move, as is increasingly recognised within research on mobilities. Yet studies of mobility have failed to 'go to sea' with the same enthusiasm as mobilities ashore. When we consider mobility, we most often examine those movements that evidently form part of our everyday lives. We forget to look outwards to the sea. Yet ships have played – and continue to play – a significant role in shaping socio-cultural, political and economic life. This book turns our attention to the manifold mobilities that occur at sea through an exploration of the mobilities of ships themselves as well as the movements of objects, subjects and ideas that are mobilised by ships. The Mobilities of Ships brings together seven chapters that tack through unexplored waters and move between diverse case studies, including pirate ships, naval vessels and luxury yachts. In so doing, The Mobilities of Ships offers a rich insight into the world of shipping mobilities past and present.
Product details
Hardcover: 130 pages
Publisher: Routledge (1 May 2015)
Language: English
ISBN-10: 1138905208
ISBN-13: 978-1138905207
Product Dimensions: 1.3 x 17.8 x 24.8 cm
Product Description
About the Author
Anyaa Anim-Addo is a Lecturer in Caribbean History at the University of Leeds, UK. She has research interests in the maritime world, the politics of mobility, and race and gender in the post-emancipation Caribbean. She has published research in Historical Geography, Island Studies and Mobilities.
William Hasty is an independent researcher based in Glasgow, UK He has published research in The Journal of Historical Geography, Cultural Geographies and Mobilities which addresses questions of politics, knowledge production and politics in relation to piracy in the early-eighteenth century.
Kimberley Peters is a Lecturer in Human Geography at Aberystwyth University, UK. Her research focuses on mobility and governance in the context of the sea. She has published work in a number of journals and is the co-editor of the volume Water Worlds: Human Geographies of the Ocean.
Table of Contents
1. The Mobilities of Ships and Shipped Mobilities  Anyaa Anim-Addo, William Hasty and Kimberley Peters
2. Metamorphosis Afloat: Pirate Ships, Politics and Process, c.1680–1730  William Hasty
3. 'The Great Event of the Fortnight': Steamship Rhythms and Colonial Communication  Anyaa Anim-Addo
4. Learning 'Large Ideas' Overseas: Discipline, (im)mobility and Political Lives in the Royal Indian Navy Mutiny  Andrew D. Davies
5. Unraveling the Politics of Super-rich Mobility: A Study of Crew and Guest on Board Luxury Yachts  Emma Spence
6. Tracking (Im)mobilities at Sea: Ships, Boats and Surveillance Strategies  Kimberley Peters
7. The Packaging of Efficiency in the Development of the Intermodal Shipping Container  Craig Martin
Sumber:
http://www.amazon.co.uk/The-Mobilities-Ships-Anyaa-Anim-Addo/dp/1138905208
Info Pemesanan Buku:
Petra Books Bandung
Meiske Pratiwi
08112037369
Komentar
comments