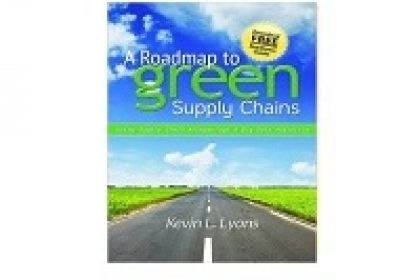 A Roadmap to Green Supply Chains: Using Supply Chain Archaeology and Big Data Analytics
by Kevin L. Lyons (Author)
This book shows the relationship between the sustainability movement and supply chains. It provides a guide for supply chain professionals, as well as government officials, corporate executives, and institutional leaders on how to direct their purchasing power so that they source products that not only fill the needs of their organizations, but that also contribute to the health and well-being of the planet. The author, Dr. Kevin Lyons, Ph.D., combined his experiences as the Chief Procurement Officer at Rutgers University with his own unique supply chain archeology. His archeological research involved sifting through garbage dumps where he examined the discarded products he procured for the university. Working backwoods, he developed systems and techniques for making sure sustainable products entered the supply chain from the start. And once they no longer served their intended purpose, they were recycled or reused.
FEATURES
*Complimentary Green Readiness Guide (Various Calculators to assess your green readiness level and other useful materials) re available for download.
* Plans for helping any organization that develops green supply chains.
* Case studies that show how corporation and governments have gone green.
* Using weather data to plan for disruptions in the supply chain.
Product Details
Hardcover: 250 pages
Publisher: Industrial Press, Inc. (April 15, 2015)
Language: English
ISBN-10: 083113514X
ISBN-13: 978-0831135140
Product Dimensions: 9 x 6.1 x 0.9 inches
Shipping Weight: 1.2 pounds (View shipping rates and policies)
Contents
Chapter 1: Greening the Supply Chain
Chapter 2: Preparing the Green Supply Chain Organization
Chapter 3: The Manufacturing Process
Chapter 4: Big data Analytics: Big Fast Data and Climate Change Solutions and Adaptions
Chapter 5: Green Supply Chain Strategies for Corporations
Chapter 6: Bringing the Green Supply Chain to the Urban Environtment
Chapter 7: How Climate Change and Supply Chains Impact Consumers – Related Projects
Sumber: 
http://www.amazon.com/Roadmap-Green-Supply-Chains-Archaeology/dp/083113514X/ref=sr_1_24?ie=UTF8&qid=1442809845&sr=8-24&keywords=logistics+books+2015
Komentar
comments