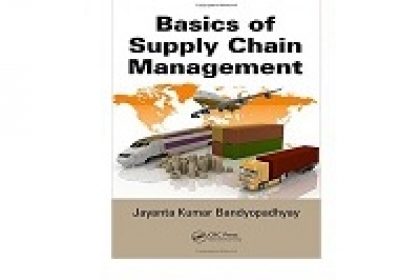 Basics of Supply Chain Management
by Jayanta Kumar Bandyopadhyay (Author)
The practice of supply chain management has become widespread in most industries. It is now included in the curriculum of many business schools in the United States and in many countries around the world. A number of professional associations, such as the American Production and Inventory Control Society and the Supply Chain Management Society, offer certification programs in supply chain management for practicing professionals. This book covers the contents of the basic supply chain management course and helps you prepare for the certification examination in supply chain management.
Basics of Supply Chain Management covers all modules of a core supply chain management course, including:
Transformation process
Forecasting and managing demand
Planning and production scheduling
Inventory management
Purchasing management
Distribution management
Global supply chain issues
Authored by a practitioner with the highest level of industrial experience and recognition, this book presents each concept fully and in an accessible manner. To aid understanding, it includes many practice problems, self-study test questions, and case studies. The case studies of 20 different companies can be used to teach graduate courses in supply chain management using the case method.
National as well as global demand for supply chain management experts has been growing exponentially. Therefore, learning supply chain management can lead to a very rewarding professional career path. This book gives you the information you need to get started on that path.
Product Details
Hardcover: 384 pages
Publisher: CRC Press (October 28, 2015)
Language: English
ISBN-10: 1466588926
ISBN-13: 978-1466588929
Shipping Weight: 1.7 pounds (View shipping rates and policies)
Contents
1. Introduction
2. Transformation of Demand into Supply Designing Products to Meet Customer Expectations
3. Transformation Process Choices for Making Product Conforming to Product Design Specifications and Tolerances
4. Demand Forecasting and Demand Management
5. Master Planning
6. Master Production Scheduling
7. Material Requirements Planning
8. Inventory Management
9. Purchasing Management
10. Physical Distribution Management
11. Distribution Inventory Management
12. Global and Other Issues in SCM
Sumber:
http://www.amazon.com/gp/product/1466588926?keywords=logistics%20books%202015&qid=1444962341&ref_=sr_1_57&sr=8-57
Komentar
comments