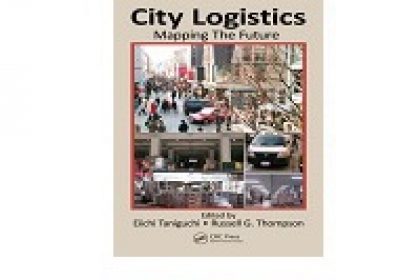 City Logistics: Mapping The Future
Eiichi Taniguchi, Russell G. Thompson
ISBN 9781482208894
Features
Considers new technologies with the potential to increase efficiencies in urban freight transportation systems
Presents policies and plans to reduce traffic congestion and environmental impact
Includes contributor case examples from the UK, The Netherlands, the U.S., Japan, South Africa, and Australia
Chronicles the growth of city logistics as a discipline and how planning and policy have improved practice over the last ten years
Summary
City Logistics: Mapping The Future examines the key concepts of city logistics along with the associated implementation issues, methodologies, and policy measures. Chronicling the growth of city logistics as a discipline and how planning and policy have improved practice over the last ten years, it details the technologies, policies, and plans that can reduce traffic congestion, environmental impact, and the cost of logistics activities in urban freight transportation systems.
The book provides a comprehensive study of the modelling, planning, and evaluation of urban freight transport. It includes case studies from the US, UK, Netherlands, Japan, South Africa, and Australia that illustrate the experiences of cities that have already implemented city logistics, including the methods used to solve the complex issues relating to urban freight transport.
Presents procedures for evaluating city logistics policy measures
Provides an overview of intelligent transport systems in city logistics
Highlights the essential features of joint delivery systems and off-hour delivery programs
Supplies an overview of access restrictions and regulations related to city logistics in urban areas
Expert contributors from major cities around the world discuss regional developments, share success stories and personal experiences, and highlight emerging trends in urban logistics. Coverage includes mathematical modeling, public policy planning and implementation, logistics in urban planning designs, and urban distribution centers.
The book examines the impact of recent advancements in technology on city logistics, including information and communication technologies, intelligent transport systems, and GPS. It also considers future directions in city logistics, including humanitarian logistics, alternative transport modes in co-modality, last kilometer deliveries, partnerships between public and private sectors, alternative fuel vehicles, and emerging technologies such as 3D printing.
Table of Contents
Introduction; Eiichi Taniguchi and Russell G. Thompson
Partnerships among Stakeholders; Michael Browne, Maria Lindholm, and Julian Allen
Role of the Public Sector; Johan (J.G.S.N.) Visser
Urban Planning with City Logistics; Kazuya Kawamura
E-commerce and City Logistics Solution; Katsuhiko Hayashi, Toshinori Nemoto, and Johan (J.G.S.N.) Visser
Modeling ; Johan W. Joubert
Evaluating City Logistics Schemes; Russell G. Thompson
Urban Distribution Centers; Ron van Duin and Juses Muñuzuri
Intelligent Transport Systems in City Logistics; Eiichi Taniguchi
Off-Hour Delivery Programs; José Holguín-Veras, Iván Sánchez-Díaz, Miguel Jaller, Felipe Aros-Vera, Shama Campbell, Cara Wang, and Stacey Hodge
Cooperative Freight Transport Systems; Tadashi Yamada
Access Restrictions and Local Authorities' City Logistics Regulation in Urban Areas;Hans Quak
Future Directions; Russell G. Thompson and Eiichi Taniguchi
Index
Editor(s) Bio
Eiichi Taniguchi is Professor of Transport and Logistics in the Department of Urban Management, Graduate School of Engineering, Kyoto University, Japan. His research centers on city logistics and urban freight transport modeling, focusing on stochastic and dynamic vehicle routing and scheduling with time windows, and multi-agent simulation considering behavior of stakeholders who are involved in urban freight transport. His recent research covers health and security issues, including humanitarian logistics after catastrophic disasters and home health care problems in an aging society. He has published more than 200 academic papers and nine books. He was awarded the best paper award by the Japan Society of Civil Engineers in 2000 and by the Eastern Asia Society for Transportation Studies in 1999 and 2011. As the president of Institute for City Logistics since 1999 he has organized the First through Eighth International Conferences on City Logistics in various venues in the world. He has been actively involved in collaborative research in international organizations including the Organisation for Economic Co-operation and Development, the World Conference on Transport Research Society, the Transportation Research Board, and the World Road Association.

Russell G. Thompson has more than 15 years of experience in city logistics research. He has been involved in a number of local and international studies relating to urban freight, including the Best Urban Freight Solutions (BESTUFS) project and the OECD report on urban distribution. Professor Thompson is a founding Director and the Vice President of the Institute for City Logistics based in Kyoto and a Team Leader of the recently established VOLVO Centre of Excellence in Sustainable Urban Freight Systems.
Sumber:
https://www.crcpress.com/City-Logistics-Mapping-The-Future/Taniguchi-Thompson/9781482208894#googlePreviewContainer
Info Pemesanan Buku:
Petra Books Bandung
Meiske Pratiwi
08112037369
Komentar
comments