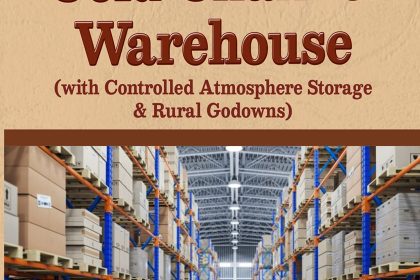 Summary
A cold storage facility preserves fruits and vegetables for a longer period of time. Entrepreneurs and MSMEs in the food and beverage industry are the most likely to choose this business. Cold Storage is a one-time investment industry with a significant initial outlay. In comparison to other small firms, however, the returns are higher and on a long-term basis.
The overall average capacity utilisation in cold storage is 75%, indicating the cold chain business in India's long-term viability. Private companies own and run 92 percent of cold storage facilities in India. A cold storage warehouse can maintain your goods at the proper temperature for long periods of time. The term "cold chain" refers to the process of controlling the temperature of perishable goods from point of origin to final consumer in order to ensure quality and safety.
The global Cold Storage Market is expected to grow at a CAGR of 14.10 percent. The global demand for processed foods, perishable foods, and medical equipment is increasing. Increased technical innovation is another influence in the cold storage sector. Cold storage is being promoted by government legislation around the world about the safety precautions for storing temperature-sensitive food and medical products.
The book covers a wide range of subjects relating to start Cold Storage Business. It also offers information on machinery suppliers, as well as photographs of the equipment and plant layout.
The Complete Book on Cold Storage, Cold Chain & Warehouse (with Controlled Atmosphere Storage & Rural Godowns) 5th Edition serves as a one-stop shop for everything you need to know about the Cold Storage Business, which is ripe for manufacturers, merchants, and entrepreneurs. This is the only book on the market that covers all aspects of commercial cold storage start-up. It's a veritable feast of how-to information, from concept through equipment procurement.
Bibliographic information
| | |
| --- | --- |
| Title | Cold Storage, Cold Chain, and Warehouse |
| Publisher | NIIR PROJECT CONSULTANCY SERVICES |
| ISBN | 9788193733943 |
| Length | 376 pages |
Sumber:
https://www.niir.org/blog/cold-storage-cold-chain-warehouse-a-comprehensive-guide/
Salam,
Divisi Informasi
Komentar
comments