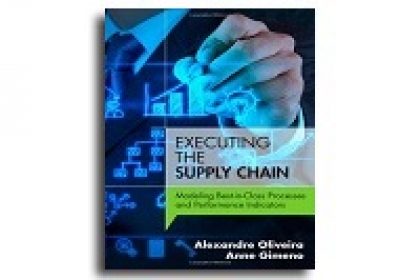 Executing the Supply Chain:
Modeling Best-in-Class Processes and Performance Indicators
(FT Press Operations Management) [Hardcover]
Alexandre Oliveira (Author), Anne Gimeno (Author)
MAP, MEASURE, AND GOVERN YOUR SUPPLY CHAIN FOR MAXIMUM BUSINESS VALUE
Master proven techniques for mapping, measuring, and improving your supply chain
Implement strategies and roadmaps for managing risk and increasing resilience
Balance segmentation with standardization, and cost with differentiation
Use supply chain KPIs to improve governance
Executing the Supply Chain offers expert guidance on driving maximum business value from modern supply chain process mapping and performance measurement. Pioneering supply chain practitioners Alexandre Oliveira and Anne Gimeno introduce powerful techniques for linking processes to customer and shareholder results, systematically managing risk, and increasing resilience across even the most complex supply chain.
Oliviera and Gimeno carefully introduce key process mapping and measurement concepts, thoroughly explain each relevant technique, and present proven applications and best practices from many of the world's best companies. You'll discover how to use your process maps to establish more effective controls, manage operations more successfully, and drive profitable change.
This book's content will be exceptionally helpful to both practitioners and students in all areas of supply chain management and strategy, including participants in leading certification programs.
E xecuting the Supply Chain will help you align vision and action throughout your supply chain, so you can deliver far more value to both customers and shareholders.
Leading practitioners Alexandre Oliveira and Anne Gimeno show how to clarify the results you expect from each process and participant, assign specific responsibilities, strengthen accountability, identify opportunities for improvement, and successfully drive the changes you need.
You'll learn how to go beyond "flows" to create process maps that make your supply network mechanisms 100% visible. Then, the authors help you use your process maps to define controls, quantitatively measure performance, and act on what your metrics tell you. Oliveira and Gimeno illuminate their techniques with many specific examples, ranging from forecasting to delivery performance, warehousing to quality assurance.
This book's techniques will enable you to implement strong governance across your supply chain—and use it to reduce risk, improve resilience, and maximize performance and profitability.
ESTABLISH SUPPLY NETWORK GOVERNANCE THAT DELIVERS REAL VALUE
A 5-step roadmap: from improved visibility to advanced people management
DEFINE QUANTITATIVE METRICS THAT HELP YOU IMPROVE
Measure what matters—in ways that are sensible, widely accepted, and actionable
IDENTIFY THE TRUE ROOT CAUSES OF SUPPLY CHAIN PROBLEMS…
…and your best potential solutions
USE PERFORMANCE BENCHMARKS TO DRIVE POSITIVE LONG-TERM CHANGE
Realigning organizations, reshaping culture
Book Description
Hardcover: 224 pages
Publisher: 

Pearson FT Press; 1 edition (July 11, 2014)

Language: English
ISBN-10: 0133764389
ISBN-13: 978-0133764383
Product Dimensions: 9 x 6.3 x 0.8  inches
Sumber:
Komentar
comments