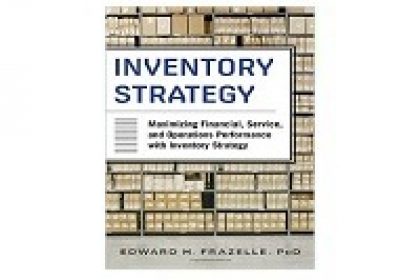 Inventory Strategy: Maximizing Financial, Service and Operations Performance with Inventory Strategy
by Edward Frazelle (Author)
ISBN-13: 978-0071847179 ISBN-10: 0071847170 Edition: 1st
An executive-level strategic guide to maximizing financial, service, and operations performance using the proven RightStock model of inventory management
In most organizations, highly qualified professionals are required to respond to a barrage of typically uncoordinated initiatives from across the organization. Those initiatives normally include increasing SKUs, customization, and inventory availability while reducing customer response times, transportation costs, purchase costs, and manufacturing costs.
Inventory Strategy arms them with a strategy for easily achieving this otherwise impossible task by presenting a proven, fact-based, balanced, and logical means of determining the proper role and level of inventory in supply chain strategy.
Editorial Reviews
About the Author
Dr. Frazelle is President and CEO of Logistics Resources International and Executive Director of The RightChain Institute. He is also the founding director of The Logistics Institute at Georgia Tech, the world's largest center for supply chain research and professional education.
Product Details
CHAPTER ONE: INTRODUCTION
1.1 What's the Problem?
1.2 More or Less
1.3 Optimization
1.4 To(o) Lean or Not To(o) Lean?
1.5 The Inventory Journey
CHAPTER TWO: INVENTORY FUNDAMENTALS
2.1 Inventory Integrity
2.2 Inventory Philosophies
2.3 Inventory Types
2.4 Out of Stock Conditions
2.5 Planning Parameters
2.6 Financial Terms
2.7 Demand Terms
2.8 Decision Variables
2.9 Inventory Interdependencies
CHAPTER THREE: INVENTORY OPTIMIZATION
3.1 RightSKUs: SKU Optimization
3.2 RightCast: Forecast Optimization
3.3 RightTimes: Lead Time Optimization
3.4 RightLots: Lot Size Optimization
3.5 RightPloy: Inventory Deployment Optimization
3.6 RightSight: Inventory Visibility Optimization
3.7 RightRate: Inventory Carrying Rate Optimization
3.8 RightStock: Inventory Optimization
CHAPTER FOUR: INVENTORY IN SUPPLY CHAIN STRATEGY
4.1 Inventory and Logistics
4.2 Inventory and Customer Service
4.3 Inventory and Inventory
4.4 Inventory and Supply
4.5 Inventory and Transportation
4.6 Inventory and Warehousing
4.7 Inventory and the Supply Chain
4.8 Beyond S&OP
Sumber:
http://www.amazon.com/Inventory-Strategy-Maximizing-Operations-Performance/dp/0071847170/ref=sr_1_14?ie=UTF8&qid=1433403235&sr=8-14&keywords=logistics+2015&pebp=1433403249110&perid=0TT0TGPW68ABCRJANDPG
Komentar
comments