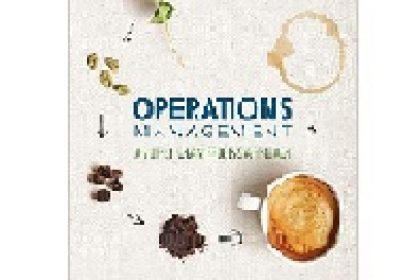 Editorial Reviews
Operations Management: A Supply Chain Process Approach exposes students to the exciting and ever-changing world of operations management through dynamic writing, application, and cutting-edge examples that will keep students interested and instructors inspired! Author Dr. Joel Wisner understands that today's students will be entering a highly competitive global marketplace where two things are crucial: a solid knowledge of operations management and an understanding of the importance for organizations to integrate their operations and supply chain processes. With this in mind, Wisner not only provides a clear and comprehensive introduction to operations management, but also gives attention to the important processes involved in linking firms' operations in a supply chain environment.
Reviews
"Let me start by saying that if Dr. Wisner is able to produce the text outlined in the table of contents it will be a significant improvement over the vast majority of texts currently on the market. I liked the way everything fit together and flowed from one topic to the next. I also liked the fact that this text more closely matches what is currently happening in industry than other texts."
(Scott Nadler)
"The examples are great, I loved them. The material is current which is very important to me."
(Ravi Narayanaswamy)
"I think this book presents a good balance of qualitative and quantitative coverage. I like the approach. It is not too heavy into quantitative topics. I want the students to understand the whys of what we do more so than how we do the quantitative."
(Norma Davis)
"I think it is written very nicely, and it is easy to read. I like the flow of the text as well, and I also like the "breakout" cases within the text. I like how it speaks to current trends!"
(Lisa Walters)
"The textbook delivers what it promises. The materials take a supply chain process approach and links OM topics to important supply chain processes. A process-centric operations management is the key factor today where organizations need to come out of their traditional functional, silo-based infrastructure to process-based organizational infrastructure."
(Asoke Dey)
"The currency level is very high. I applaud the author's effort in integrating so many recent examples and cases. Students will love these."
(Lifang Wu)
"The presentation of the materials is excellent! The examples of the companies throughout the chapters are a fantastic way to get the messages across to the students. This is the best operations book I have ever read."
(Jerry Bilbrey)
About the Author
Joel D. Wisner, PhD, C.P.M., CTL is Professor of Operations and Supply Chain Management at the University of Nevada, Las Vegas. He earned his Ph.D. in Supply Chain Management from Arizona State University in 1991. He has taught the Operations Management class at UNLV for 20 years (along with Purchasing, Logistics, and Supply Chain Management classes) and has used or reviewed a large number of textbooks in these areas. He is the primary author of Principles of Supply Chain Management (a South-Western Cengage text) which is going into its 4th Edition as well as Process Management (also a South-Western Cengage text). Dr. Wisner's research interests are in quality assessment and improvement strategies along the supply chain. His research articles have appeared in numerous journals including Journal of Business Logistics, Journal of Operations Management, Journal of Supply Chain Management, Journal of Transportation, Production and Operations Management Journal, and Quality Management Journal. In 2008 Wisner was the keynote speaker at The Operations and Supply Chain Management Practice Conference. Wisner has served on the editorial boards for Advances in Management and Operations and Supply Chain Management and was the special issue editor of Operations and Supply Chain Management.
Product Details
Hardcover: 616 pages
Publisher: SAGE Publications, Inc (August 2, 2016)
Language: English
ISBN-10: 1483383067
ISBN-13: 978-1483383064
Shipping Weight: 1.7 pounds
Komentar
comments