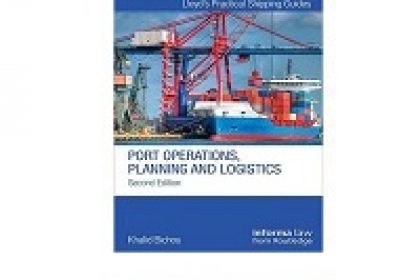 Port Operations, Planning and Logistics (Lloyd's Practical Shipping Guides)
2nd Edition
Port Operations Planning and Logistics offers a comprehensive and detailed analysis of world port systems through applying both theoretical and practical approaches to port planning, operations, logistics, management and policy. The book is designed to reach out to a wide audience including port practitioners, academics, students, shipping and logistics professionals, transport planners and policy makers. The author draws from a rare combination of an international port experience and an established academic expertise to provide a structured book that cuts across different research fields including operations, economics, logistics, strategy, and policy.
Following the success of the 1st edition, this enlarged and substantially rewritten 2nd edition explores several port topics; planning, institutional organisation, operations, logistics, investment and financing, pricing, competition and strategy, policy and regulation, ICT and technology, labour and training, safety and security and environmental management, across various types of ports and terminals. With over 500 pages and 120 tables, figures and illustrations, this 2nd edition covers 20 chapters (updated and new) each supported with case studies, practical examples and references on the latest developments in the field.
Editorial Reviews
About the Author
Dr Khalid Bichou is an internationally recognised port expert with advanced qualifications and over 25 years of international experience including periods in senior positions and as Consultant and Advisor to global operators, financial institutions, governments, and international agencies. Following 17 years of formal career, he has operated for the last nine years as an Independent Consultant. He has been involved in 90 consulting projects & advisory services in over 100 countries. He has also been active in professional development and training and has designed and delivered over 70 workshops for the port and transport logistics industries.
Parallel to his professional career, Dr. Bichou has a strong interest in academic research and teaching. He is co-founder and member of the international advisory board of the Port Operations Research and Technology Centre (PORTeC) at Imperial College London. He is also co-founder and Coordinator of the Global Research Port Alliance (GPRA) between 8 prestigious universities in the World. He has published seven books and over 100 academic papers and policy reports. He holds visiting academic and teaching positions at several leading universities, including Imperial College, City University, LBS, UCL, MIT, and UWI.
Product Details
Series: Lloyd's Practical Shipping Guides
Hardcover: 400 pages
Publisher: Informa Law from Routledge; 2 edition (January 6, 2016)
Language: English
ISBN-10: 1616310243
ISBN-13: 978-1616310240
Shipping Weight: 1.7 pounds (View shipping rates and policies)
Sumber:
http://www.amazon.com/Operations-Planning-Logistics-Practical-Shipping/dp/1616310243/ref=sr_1_1?ie=UTF8&qid=1452484849&sr=8-1&keywords=logistics+book+2016
Komentar
comments