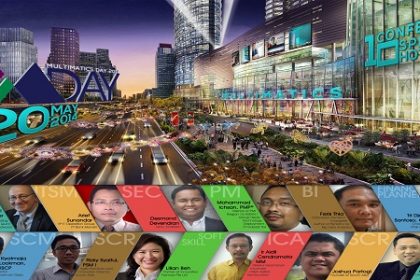 MDay a second (2nd) Annual Conference: 
Global Certifications Portfolio as a Strategic Solution to Achieve High Performance Organization
All leaders are expected to recognize the aims of their organizations to reach outstanding performance in their business / institutions, even when they are under persistent pressure within the current environment. Leaders are also extremely under pressure by time constraint to achieve their goals; hence they need a strong focus on what really must be done to improve performance.
In this regard, it is an honor for Multimatics to announce and invite you to attend the Multimatics Day 2014, a second (2nd) Annual Conference with a theme of:
"Global Certifications Portfolio as a Strategic Solution to Achieve High Performance Organization"
This event will be held on 20 May 2014 at Multimatics, AXA Tower 37th Floor, Jl. Prof. DR. Satrio Kav. 18, Kuningan City, Jakarta Selatan.
The aim of this MDay 2014 is to share  the best frameworks and practices from this global certification portfolio which should be aligned with business needs and answer the issues that organizations are facing right now. This is to be presented by a great combination of certified speakers and key executives who can share their ideal and valuable experienced when they applied this best practices and framework into their organization.
We expect by participating in MDay2014, you as one of our valuable clients can learn new things, increase your knowledge and discuss the current trends in your respective business field and by sharing this experience, every participant can unlock great performance of its human resource capital in order they can contribute more and more to their organization and make them high performance organizations.
There are series of sessions in this event where you can choose 1 or 2 seminars based on your interests which is scheduled in two sessions. This is a great event designed for you to upgrade about the current trends that rise up in today's technology and business environment.
We are hoping that you can come and join this event and learned on the selected topics in IT Security, IT Service Management, IT Governance, Business Intelligence,Project Management, Supply Chain Management, Financial Planner and Soft Skill, interact and discuss this current trends to our certified and key executives speakers.
For more details of this event, you can visit our MDAY2014 website at www.multimatics.co.id/mday2014.
The seat is limited, so please hurry, register your name by downloading the registration form for your reservation on the link above and send it to mday2014@multimatics.co.id.
Thank you.
Komentar
comments