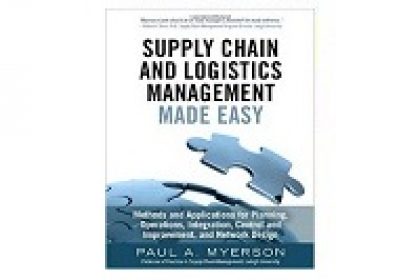 Supply Chain and Logistics Management Made Easy: Methods and Applications for Planning, Operations, Integration, Control and Improvement, and Network Design
Hardcover
– May 10, 2015
ISBN-13: 978-0133993349 ISBN-10: 0133993345 Edition: 1st
THE PRACTICAL, EASY INTRODUCTION TO MODERN SUPPLY CHAIN/LOGISTICS MANAGEMENT FOR EVERY PROFESSIONAL AND STUDENT!
COVERS CORE CONCEPTS, PLANNING, OPERATIONS, INTEGRATION, COLLABORATION, NETWORK DESIGN, AND MORE

SHOWS HOW TO MEASURE, CONTROL, AND IMPROVE ANY SUPPLY CHAIN

INCLUDES PRACTICAL ADVICE FOR JUMPSTARTING YOUR OWN SUPPLY CHAIN CAREER
This easy guide introduces the modern field of supply chain and logistics management, explains why it is central to business success, shows how its pieces fit together, and presents best practices you can use wherever you work.
Myerson explains key concepts, tools, and applications in clear, simple language, with intuitive examples that make sense to any student or professional. He covers the entire field: from planning through operations, integration and collaboration through measurement, control, and improvement.
You'll find practical insights on hot-button issues ranging from sustainability to the lean-agile supply chain. Myerson concludes by helping you anticipate key emerging trends—so you can advance more quickly in your own career.
Trillions of dollars are spent every year on supply chains and logistics. Supply chain management is one of the fastest growing areas of business, and salaries are rising alongside demand. Now, there's an easy, practical introduction to the entire field: a source of reliable knowledge and best practices for students and professionals alike.
Paul A. Myerson teaches you all you'll need to start or move forward in your own supply chain career. Writing in plain English, he covers all the planning and management tasks needed to transform resources into finished products and services, and deliver them efficiently to customers.
Using practical examples, Myerson reviews the integration, collaboration, and technology issues that are essential to success in today's complex supply chains. You'll learn how to measure your supply chain's performance, make it more agile and sustainable, and focus it on what matters most: adding customer value.
MASTER NUTS-AND-BOLTS OPERATIONAL BEST PRACTICES
Improve procurement, transportation, warehousing, ordering, reverse logistics, and more

BUILD A BETTER GLOBAL SUPPLY CHAIN
Manage new risks as you improve sustainability

STRENGTHEN KEY LINKAGES WITH YOUR PARTNERS AND CUSTOMERS
Get supply chains right by getting collaboration right

PREVIEW THE FUTURE OF SUPPLY CHAINS—AND YOUR SUPPLY CHAIN CAREER
Discover "where the puck is headed"—so you can get there first
Editorial Reviews
Review
"Paul Myerson's new book is a refreshing and a welcomed addition to the field, offering the reader a clear and easy-to-understand presentation of the key concepts and methods used in the field of supply chain management. His work is not only easy to understand but also comprehensive in coverage.
"I highly recommend it to university professors who want to incorporate it in their undergraduate and graduate courses in supply chain management. I have become a real fan of Supply Chain and Logistics Management Made Easy. Certainly, nothing in life is easy, but Paul Myerson's new book has made the field more attractive and popular."
 –Richard A. Lancioni, Professor of Marketing and Supply Chain Management, Fox School of Business & Management, Temple University
"Is it possible to take a discipline that involves millions of moving things, people, and processes and make it easy? Paul has taken the complex subject of supply chain and delivered a thorough and easy-to-understand review of all its elements. For the business student, the book provides a comprehensive view of the supply chain and serves as an effective introduction to the discipline and as an effective teaching tool. For the supply chain expert, this book is an excellent tool for reflection on all things supply chain. Each section brings back thoughts of the challenges the accomplished supply chain leader has faced. The book is an excellent resource for anyone in business who is looking to work in or currently works in supply chain management."
 –Gary MacNew, Regional Vice President, Supply Chain Optimizers
"This is an excellent read for both students and professionals who are interested in gaining a better understanding of what supply chain and logistics is all about. It is an easy-to-understand handbook for anyone who has a need to better understand supply chain management or is responsible for helping their organization gain an advantage from their supply chain. Myerson's book should be on every manager's bookshelf for ready reference."
 –Robert J. Trent, Ph.D., Supply Chain Management Program Director, Lehigh University
"Paul does a great job compacting supply chain management and logistics into one text. I wish I would have had this book when I was a logistics student 30+ years ago, but it's a great text and reference for me now, too. The SCM discipline is very wide and diverse now. This book captures all the elements. A complete professional reference. An easy read that teaches."
 –Andy Gillespie, Director, Global Logistics, Ansell
"Practical, accessible, up-to-date, and covering today's best practices, Supply Chain and Logistics Management Made Easy is the ideal introduction to modern supply chain management for every manager, professional, and student."
 –Oliver Yao, Associate Professor, Lehigh University
About the Author
Paul A. Myerson is a Professor of Practice in Supply Chain Management at Lehigh University and holds a B.S. in Business Logistics and an M.B.A. in Physical Distribution.
Professor Myerson has an extensive background as a Supply Chain and Logistics professional, consultant, and teacher. Prior to joining the faculty at Lehigh, Professor Myerson has been a successful change catalyst for a variety of clients and organizations of all sizes, having over 30 years experience in Supply Chain and Logistics strategies, systems, and operations that have resulted in bottom-line improvements for companies such as General Electric, Unilever, and Church and Dwight (Arm & Hammer).
Professor Myerson created and has marketed a Supply Chain Planning software tool for Windows to a variety of companies worldwide since 1998.
He is the author of the books Lean Supply Chain & Logistics (McGraw-Hill, Copyright 2012) and Lean Wholesale and Retail (McGraw-Hill, Copyright 2014) as well as a Lean Supply Chain and Logistics Management simulation training game and training package (Enna.com, copyright 2012–13).
Professor Myerson also writes a column on Lean Supply Chain for Inbound Logistics Magazine and a blog for Industry Week magazine.
Product Details
Komentar
comments