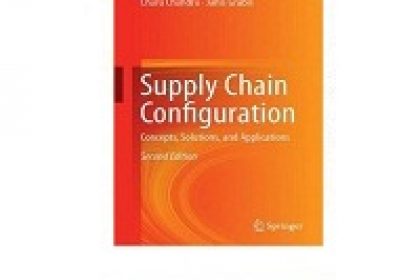 Supply Chain Configuration: Concepts, Solutions, and Applications
by Charu Chandra (Author), Janis Grabis (Author)
This book discusses the models and tools available for solving configuration problems, emphasizes the value of model integration to obtain comprehensive and robust configuration decisions, proposes solutions for supply chain configuration in the presence of stochastic and dynamic factors, and illustrates application of the techniques discussed in applied studies. It is divided into four parts, which are devoted to defining the supply chain configuration problem and identifying key issues, describing solutions to various problems identified, proposing technologies for enabling supply chain confirmations, and discussing applied supply chain configuration problems.
Its distinguishing features are:
an explicit focus on the configuration problem
an in-depth coverage of configuration models
an emphasis on model integration
and application of information modeling techniques in decision-making
New to this edition is Part II: Technologies, which introduces readers to various technologies being utilized for supply chain configuration and contains two new chapters. The volume also has an added emphasis on the most recent theoretical developments and empirical findings in the area of supply chain management and related topics. This book is appropriate for professional and technical readers, including research directors, research associates, and institutions involved in both the design and implementation of logistics systems in manufacturing and service-related products. An equally appropriate audience is the academic reader, including professors, research associates, and students in industrial, manufacturing, mechanical, and automotive engineering departments, as well as engineering management, management sciences, and production and operations management.
Editorial Reviews
About the Author
Charu Chandra is Professor in College of Business at the University of Michigan-Dearborn. Prior to this, he was Professor in Industrial and Manufacturing Systems Engineering at the same institution. He has worked in the industry as an information technology manager and systems analyst. He is involved in research in supply chain management, and enterprise integration issues in large complex systems. He has published extensively, has guest edited several journal issues, and serves on the editorial boards of several academic journals. 
Jānis Grabis works at Riga Technical University. His main research interests are supply chain management, enterprise applications, simulation, enterprise integration, and software project management. He is the author of more than a hundred scientific publications. He is a member of Decision Science Institute and IEEE. Currently, he is a professor at Riga Technical University and leads the Department of Management Information Technology.
Product Details
Hardcover: 250 pages
Publisher: Springer; 2nd ed. 2016 edition (April 8, 2016)
Language: English
ISBN-10: 1493935550
ISBN-13: 978-1493935550
Shipping Weight: 1.7 pounds (View shipping rates and policies)
Sumber:
http://www.amazon.com/Supply-Chain-Configuration-Solutions-Applications/dp/1493935550/ref=sr_1_89?ie=UTF8&qid=1455509116&sr=8-89&keywords=logistics+book+2016
Komentar
comments