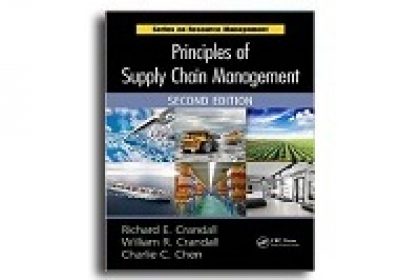 Principles of Supply Chain Management, Second Edition (Key Cases)
by Richard E. Crandall (Author), William R. Crandall (Author), Charlie C. Chen (Author)
The second edition of this popular textbook presents a balanced overview of the principles of supply chain management. Going beyond the usual supply chain text, Principles of Supply Chain Management not only details the individual components of the supply chain, but also illustrates how the pieces must come together. To show the logic behind why supply chain management is essential, the text examines how supply chains are evolving, looks ahead to new developments, and provides a balanced look at supply chains with a focus on both the customer side and the supplier side of supply chains.
See What's New in the Second Edition:
Expanded coverage of current topics such as e-commerce, risk management, outsourcing and reshoring, sustainability, project management, and data analytics
Increased emphasis on how customers are becoming more influential in steering product design
Additional coverage of the use of data analytics to evaluate customer preferences and buying patterns
A new chapter devoted to logistics and its increasing importance in supply chains
Company profiles of organizations with effective supply chains that illustrate the main theme of each chapter
A "Hot Topic" for each chapter, providing a description of a critical management issue to stimulate class discussion
A complete set of instructor materials for each chapter, including presentation slides, test banks, class exercises, discussion questions, and more
From the point of distribution to the final customer, all the way back to the point of origin at the mine or farm, the text provides examples and case histories that illustrate a proven approach for achieving effective supply chain integration. This self-contained resource provides readers with a realistic appraisal of the state of the art in supply chain management and the understanding needed to build and manage effective supply chains in a wide range of industries. Most importantly, it emphasizes the need for building and maintaining collaboration among all members of the supply chain.
Book Description
Hardcover: 717 pages
Publisher: CRC Press; 2 edition (December 16, 2014)
Language: English
ISBN-10: 1482212021
ISBN-13: 978-1482212020
Product Dimensions:7 x 10 inches
Sumber:
www.amazon.com
Komentar
comments