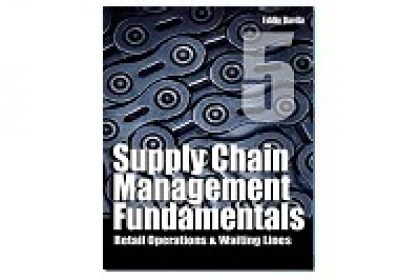 Supply Chain Management Fundamentals 5: Integrating Purchasing, Operations & Logistics: Module Five (Supply Chain Management Fundamentals: Integrating Purchasing, Operations & Logistics)
Kindle Edition
Module 5 I Retail Operations and Waiting Lines
Goals, Objectives, and Stuff We Will Ruin:
This Module will ruin every trip to a retail store.
This module will ruin how you look at waiting lines.
This module will discuss how modern retail supply chains use collaboration and technology to better serve their customers.
This module might make you appreciate the hard work that goes into making your favorite retail stores so great, everyday.
This module will help you understand why skilled retail managers and retail supply chain managers are in such high demand.
Product Details
File Size: 2145 KB
Print Length: 29 pages
Language: English
ASIN: B00TNSOD6M
Text-to-Speech: Enabled

X-Ray:

Not Enabled

Word Wise: Not Enabled
Lending: Not Enabled
Sumber:
http://www.amazon.com/Supply-Chain-Management-Fundamentals-Integrating-ebook/dp/B00TNSOD6M/ref=sr_1_19?ie=UTF8&qid=1432631988&sr=8-19&keywords=logistics+2015
Komentar
comments