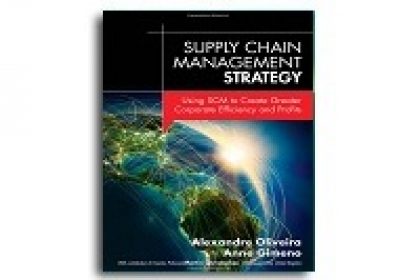 Supply Chain Management Strategy: Using SCM to Create Greater Corporate Efficiency and Profits (FT Press Operations Management) [Hardcover]
Alexandre Oliveira (Author), Anne Gimeno (Author)
Drive more value from your supply chain by choosing and implementing the right models and strategies. Supply Chain Management Strategy offers expert guidance for comparing and choosing models, implementing governance, and strategizing to enable sales growth, margin growth, and superior customer experience.
Lead authored by pioneering supply chain management expert Alexandre Oliveira, this guide focuses on driving maximum business value from modern supply chain strategies and models. Oliveira and senior supply chain executive Anne Gimeno thoroughly introduce the topic, offer detailed descriptions of each relevant model, and present modern applications and best practices drawn from the experiences of leading companies. Coverage includes:
Adaptive, Triple-A, customer-driven, demand-driven, and resilient supply chains
Assessing the strengths and weaknesses of each model in your unique context
Implementing effective governance, including Sales and Operations Planning (SandOP), Integrated Business Planning (IBP), and Business Forecasting Capability (BFC)
Performing effective supply chain continuity planning (BCP)
Enabling growth in sales, revenue, and market share
Accelerating revenue cycles and reducing lost sales
Supporting marketing and sales initiatives
Growing margins by reducing the cost of sales
Balancing asset management, service level, cost structure, and other tradeoffs
Delighting customers with the right service level at the right cost
This guide's content will be exceptionally helpful for both practitioners and students, including participants in APICS and other leading certification programs.
Book Description
Hardcover: 176 pages
Publisher: Pearson FT Press; 1 edition (June 9, 2014)
Language: English
ISBN-10: 0133764370
ISBN-13: 978-0133764376
Product Dimensions: 9.1 x 5.9 x 0.8 inches
Source:
http://www.amazon.com/Supply-Chain-Management-Strategy-Efficiency/dp/0133764370/ref=sr_1_2?s=books&ie=UTF8&qid=1403594149&sr=1-2
Komentar
comments