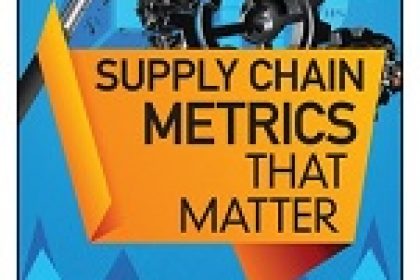 Summary
How to Conquer the Effective Frontier and Drive Improved Value in Global Operations
Growth has slowed. Volatility has increased and the world is more global. Brands are defined by innovation and services. Supply chain excellence matters more than ever. It makes a difference in corporate performance.
One cannot snap their fingers and deliver supply chain success. It happens over the course of many years. It is measured in inches not miles. In this book, the author evaluates the progress of over a hundred companies over the period of 2006-2013.
Success drives value. The effective supply chain makes a difference in winning a war, saving a patient, and driving commerce; but it also makes a difference in a community having clean air, potable water, and a standard of living. Mistakes are hard to overcome. Supply Chain Metrics that Matter tells this story. The book links corporate financials to supply chain maturity. In the book, the author analyzes which metrics matter.
About the Author
LORA M. CECERE is the founder of the research firm Supply Chain Insights. She is the author of the enterprise software blog Supply Chain Shaman, which attracts 5,000 readers weekly. She also writes a blog for Forbesand is a LinkedIn Influencer. Currently, Lora's research focuses on supply chain sensing and revenue management. Her supply chain experience includes specialist roles at AMR Research, Clorox, Gartner Group, Kraft, and Procter & Gamble.

Informasi Pemesanan Buku:
Meiske Pratiwi
Petra Books
Jl. Guntur madu No. 9
Bandung 40264
Indonesia
Telp./Fax. (022) 7302269
HP. 082217309306
Komentar
comments