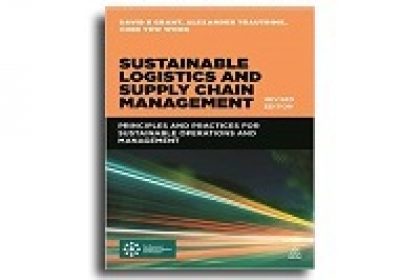 Sustainable Logistics and Supply Chain Management: Principles and Practices for Sustainable Operations and Management
by David B. Grant (Author), Alexander Trautrims (Author), Chee Yew Wong (Author)
Review
"Highly practical guide to the principles and practices for sustainable logistics and supply chain management." Supply Business "The book offers an excellent and broad overview of sustainability. It goes far beyond freight transportation and also includes corporate social responsibility, ethics and risk issues in supply chains. The topical mini-cases relate the discussion to practice and are a great source for teaching." Professor Stephan M. Wagner, Chair of Logistics Management and Director Executive MBA at the ETH Zurich, Switzerland "This book provides a wonderful roadmap to help managers, students, and even scholars, grasp the fundamentals of green supply and logistics management. The comprehensive treatment of this complex issue is presented in easy to understand language that makes it conveniently accessible even to the novice. " Joseph Sarkis, Professor and Head of Department of Management, Worcester Polytechnic Institute, USA "Sustainable Logistics and Supply Chain Management is a powerful book for both executives and practitioners. It contains the key elements of building and maintaining sustainable supply chains. The principles and concepts are illustrated with practical applications and examples. This is a great book." Dr. Dale S. Rogers, Professor, Logistics & Supply Chain Management, Co-Director, Center for Supply Chain Management, Rutgers Business School, USA "This is one of the first books globally integrating sustainability into all logistical and supply chain related processes. It will serve students as well as practitioners in getting good insights onto the topic." Prof. Dr. Stefan Seuring, Professor of Supply Chain Management at the University of Kassel, Germany "Sustainability has become license to do business in the 21st Century, and must incorporate all facets of a firm's operations, including most importantly, supply chain management. Professors Grant, Trautrims, and Wong provide a current assessment of sustainable supply chain management from a logistics perspective. Their book is an easily accessible overview of sustainability that is relevant for the practicing logistics manager." Craig Carter, Associate Professor, Supply Chain Management, Arizona State University, USA
–This text refers to the Unknown Binding edition.
About the Author
David B. Grant is Professor of Logistics and Associate Dean of Business Engagement at Hull University Business School in the UK.  He is the author of Logistics Management (Pearson Education Canada).
Alexander Trautrims teaches Supply Chain and Operations Management at Nottingham University Business School and Logistics and Supply Chain Management at Hull University Business School, both in the UK. He also teaches sustainable logistics at the Universidad de los Andes (Colombia) and at the Institut Supérieur d'Éstudes Logistique Le Havre (France).
Chee Yew Wong is Professor of Supply Chain Management and Director of the Centre for Operations and Supply Chain Research (COSCR) at Leeds University Business School in the UK.
Komentar
comments