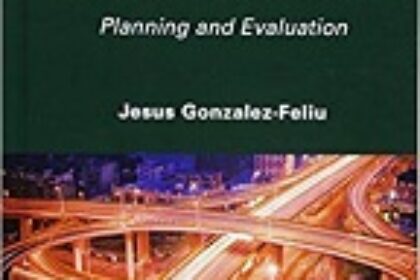 Summary
Urban logistics has been a subject of interest to researchers and practitioners for more than 20 years in France and Europe, and more than 40 in the United States. Nevertheless, the subject remains difficult to address by a lack of unification in the definitions and proposed methods but also by what makes its great richness: the diversity of actors and the pluridisciplinarity of the methods and techniques available.
This book, which synthesizes more than 10 years of personal research on the subject, but also experience within different teams and projects, intends to bring a unified vision (and more and more followed at the international level) on logistics planning Urban development. It begins with an overview of research in urban logistics and then describes and defines the main components: flows, actors, infrastructures, management components, technologies, regulations and financing actions. A unified vision of these elements as well as the definition of sustainable urban logistics is proposed.
Then, the book presents the basics of planning and managing sustainable urban logistics. First, the basics of the before-after analysis are introduced, not only for the experiments but also for the simulation of scenarios. To carry out this type of analysis, two main groups of methods are needed: methods for estimating flows and methods for calculating evaluation indicators. The book presents the main global standards and dominant models for the estimation of the urban freight transport demand, i.e. of freight transport needs in urban areas. Then it presents the methods for estimating and simulating transport and distribution schemes (i.e. transport supply) as well as a proposal for integrated supply-demand modeling. All these methods are presented for immediate application to practitioners, accompanied by summary tables and parameters necessary for their implementation.
As far as evaluation is concerned, the book presents a framework for the choice of sustainable indicators and scorecards. Second, the main methods for economic, environmental, social and accessibility assessment are presented. They are accompanied by tables and figures necessary for their implementation. Finally, the main applications of the proposed methods are introduced. The book is meant to be a practical guide to applying the main methods from scientific research to a practical context, and presents examples of quantified and explained application. It is thus the first book that summarizes and presents the main unified methods to help the different decision-makers to implement them in their actions of planning and management of the urban logistics and the transport of goods in town.
Bibliographic information
| | |
| --- | --- |
| Title | Sustainable Urban Logistics: Planning and Evaluation |
| Author | Jesus Gonzalez-Feliu |
| Publisher | Wiley |
| ISBN | 9781119421948 |
| Length | 304 pages |
Sumber:
https://www.wiley.com/en-id/Sustainable+Urban+Logistics:+Planning+and+Evaluation-p-9781119421948
Salam,
Divisi Informasi
Komentar
comments