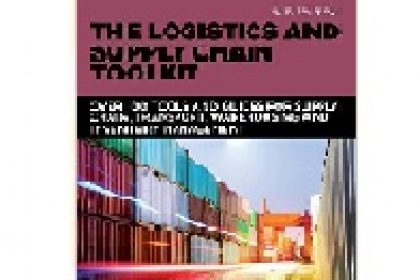 Editorial Reviews
Providing practical and applicable solutions to some of the most frequently encountered problems in the industry, this updated second edition of The Logistics and Supply Chain Toolkit offers revised tools that reflect the latest innovations in technologies and processes.  The book also includes new tools on calculating stock-holding cost, calculating ordering cost, managing slow-moving inventories, and new, additional website resources, such as worked examples.  Chapters covering managing warehouses, transportation, inventory, supply chain, performance, finances, and outsourcing thoroughly explain each tool and suggest areas where they can be applied.
Reviews
"A book that summarizes and explains many of the key techniques that make logistics the profession that it is. Certainly one that will not gather dust on a bookshelf, but will gather insight and understanding in the workplace."
(Professor Neil H Ashworth Chief Executive Officer, Collect+, United Kingdom)
"A great resource that not only provides the tools but also gives you a plan. Sufficiently succinct to give comprehensive coverage of the subject, but in enough depth to work as a standalone reference. I thoroughly recommend it."
(Nigel Price Managing Director, CRP, United Kingdom)
"An invaluable source of practical information on all aspects of the supply chain, which will be useful to both practitioners and those studying the subject at any academic level. The toolkit provides an excellent resource to help in this task. Enhanced by many illustrations and tables, with inputs from a range of companies and practitioners and references to useful websites and literature, this book is a must-buy for anyone interested in learning more about this fascinating industry."
(Dr Sharon Cullinane Gothenburg Business School, Sweden)
"The Logistics and Supply Chain Toolkit, second edition, is a well-researched, substantial reference book. Packed full of clear examples and with a very structured approach, this is an excellent practical guide into the understanding of logistics tools and how to apply them in the real world. It's a must-read for anyone who is involved in logistics and supply chain management."
(Carole Verry Consultant, France)
About the Author
Gwynne Richards has over 30 years of experience in warehouse management and logistics. He runs courses on warehouse management for professional organizations in the UK and lectures at the University of Warwick and the University of Aston. He is also the author of Warehouse Management (Kogan Page).
Susan Grinsted is the Director of Burman Associates, a supply chain consulting company focused on training and education in production and supply chain management.  She has worked with companies such as Coca-Cola, Philip Morris and British Midland Airways.
Product Details
Paperback: 400 pages
Publisher: Kogan Page; 2 edition (July 28, 2016)
Language: English
ISBN-10: 0749475579
ISBN-13: 978-0749475574
Product Dimensions: 6 x 0.8 x 9 inches
Shipping Weight: 1.2 pounds (View shipping rates and policies)
Referensi:
https://www.amazon.com/Logistics-Supply-Chain-Toolkit-Warehousing/dp/0749475579/ref=sr_1_19?ie=UTF8&qid=1469762995&sr=8-19&keywords=logistics
Komentar
comments