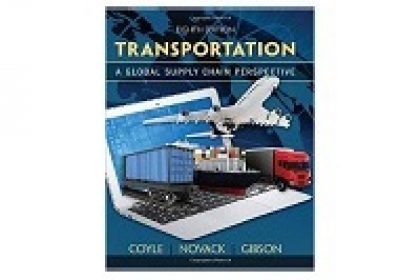 Transportation: A Global Supply Chain Perspective
Hardcover
Book Description
ISBN-13: 978-1133592969 ISBN-10: 1133592961 Edition: 8th
TRANSPORTATION: A SUPPLY CHAIN PERSPECTIVE, 8E equips you with a solid understanding of what is arguably the most critical?and complex?component of global supply chains. It explains the fundamental role and importance of transportation in companies and in society, as well as the complex environment in which transportation service is delivered. Providing a framework and foundation for the role of transportation in supply chains, it offers an overview of the operating and service characteristics, cost structure, and challenges faced by today's providers of transportation. It also highlights a variety of critical transportation management issues, providing insight into the strategic activities and challenges involved in the movement of goods through the supply chain. Completely up to date, TRANSPORTATION emphasizes global topics throughout, includes the latest coverage of hard and soft technology, and offers in-depth discussions of fuel, energy, managerial, economic, and environmental issues.
Contents
Part I
Chapter 1: Global Supply Chains, The Role and Importance of Transportation
Chapter 2: Transportation and the Economy
Chapter 3: Transportation Regulation and Public Policy
Chapter 4: Costing and Pricing for Transportation
Part II
Chapter 5: Motor Carriers
Chapter 6: Railroads
Chapter 7: Airlines
Chapter 8: Water Carriers and Pipelines
Part III
Chapter 9: Transportations Risk Management
Chapter 10: Global Transportation Planning
Chapter 11: Global Transportation Execution
Chapter 12: Third Party Logistics
Chapter 13: Private Transportation and Fleet Management
Chapter 14: Issue and Challenges for Global Supply Chains
Editorial Reviews
About the Author
John J. Coyle is director of corporate relations for the Center for Supply Chain Research and professor emeritus of supply chain and information systems at Penn State University. The author of more than 100 publications in the areas of transportation and logistics, Professor Coyle has presented papers on these topics at such professional meetings as the Council of Logistics Management, the American Marketing Association, the National Academy of Sciences, the Transportation Research Forum, and the Southern Marketing Association. In addition to TRANSPORTATION, he also coauthors best-selling THE MANAGEMENT OF BUSINESS LOGISTICS. From 1990 to 1996, Dr. Coyle was editor of the JOURNAL OF BUSINESS LOGISTICS, and he has served on the editorial review board of the JOURNAL OF BUSINESS LOGISTICS, THE SUPPLY CHAIN REVIEW, and THE INTERNATIONAL JOURNAL OF PHYSICAL DISTRIBUTION AND LOGISTICS. In 1991, he received the Council of Logistics Management's Distinguished Service Award, which honors individuals who have made a significant contribution to the art and science of logistics. In 2003, The Philadelphia Traffic Club named Dr. Coyle Person of the Year, and in 2004 he received the Eccles Medal from the International Society of Logistics and the Lion's Paw Medal from Penn State. Dr. Coyle serves on the boards of three logistics companies. He earned bachelor's and master's degrees from Penn State and his doctorate from Indiana University, Bloomington, where he was a U.S. Steel Fellow.
Robert Novack is an associate professor of supply chain management in the Department of Supply Chain and Information Systems at Penn State University. From 1981 to 1984 he worked in operations management and planning for the Yellow Freight Corporation in Overland Park, Kansas, and from 1984 to 1986 he worked in planning and transportation at Drackett Company in Cincinnati, Ohio. Dr. Novack's numerous articles have been published in such publications as the JOURNAL OF BUSINESS LOGISTICS, TRANSPORTATION JOURNAL, and THE INTERNATIONAL JOURNAL OF PHYSICAL DISTRIBUTION AND LOGISTICS MANAGEMENT. He also is a coauthor of CREATING LOGISTICS VALUE: THEMES FOR THE FUTURE. Active in the Council of Supply Chain Management Professionals, Dr. Novack has served as overall program chair for the annual conference, as a track chair, as a session speaker, and as a member of numerous committees. Dr. Novack holds the CTL designation from AST&L and is a member of WERC. He earned a BS degree and an MBA in logistics from Penn State University and a Ph.D. in logistics from the University of Tennessee.
Brian Gibson is a professor of supply chain management and program coordinator for the Department of Aviation and Supply Chain Management at Auburn University. He served for five years on the faculty of Georgia Southern University as director of the Southern Center for Logistics and Intermodal Transportation, and he also has 10 years of experience as a logistics manager for two major retailers. An accomplished faculty member, Dr. Gibson has received multiple awards for outstanding teaching, research, and outreach?most notably the 2006 Auburn University Alumni Association Undergraduate Teaching Excellence Award. He has coauthored more than 50 refereed and invited articles in the JOURNAL OF BUSINESS LOGISTICS, SUPPLY CHAIN MANAGEMENT REVIEW, INTERNATIONAL JOURNAL OF LOGISTICS MANAGEMENT, INTERNATIONAL JOURNAL OF PHYSICAL DISTRIBUTION AND LOGISTICS MANAGEMENT, and other leading publications. He is actively engaged in executive education, seminar development, and consulting with leading organizations. Dr. Gibson serves in leadership roles for the Council for Supply Chain Management Professionals, the Distribution Business Management Association, and the Retail Industry Leaders Association. He earned a BSBA from Central Michigan University, an MBA from Wayne State University, and a Ph.D. in logistics and transportation from the University of Tennessee.
Edward J. Bardi is principal of Bardi Consulting and professor emeritus of business logistics at the University of Toledo. He also has served as acting dean and associate dean of the College of Business Administration at the University of Toledo and has held faculty positions at Iowa State University. Dr. Bardi has published numerous articles dealing with business logistics, transportation management, carrier selection, economic development, and employee household goods movement in various journals, including TRANSPORTATION JOURNAL, JOURNAL OF BUSINESS LOGISTICS, HANDLING AND SHIPPING, BAYLOR BUSINESS REVIEW, INTERNATIONAL JOURNAL OF PHYSICAL DISTRIBUTION AND LOGISTICS MANAGEMENT, LOGISTICS & TRANSPORTATION REVIEW, and PERSONNEL JOURNAL. He also is co-author of SUPPLY CHAIN MANAGEMENT: A LOGISTICS PERSPECTIVE, 8E. A popular seminar leader of domestic and global business logistics management development programs, Dr. Bardi has served as a consultant to numerous business and public agencies in the areas of business logistics, marketing, and economic development. He received his B.S., M.S., and Ph.D. from Penn State University, majoring in business logistics/transportation economics.
Product Details
Sumber: 
http://www.amazon.com/Transportation-Global-Supply-Chain-Perspective/dp/1133592961/ref=sr_1_82?ie=UTF8&qid=1432348860&sr=8-82&keywords=logistics+2015
Komentar
comments