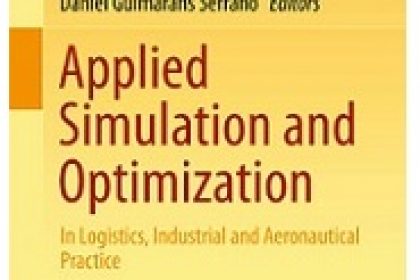 Summary
Presenting techniques, case-studies and methodologies that combine the use of simulation approaches with optimization techniques for facing problems in manufacturing, logistics, or aeronautical problems, this book provides solutions to common industrial problems in several fields, which range from manufacturing to aviation problems, where the common denominator is the combination of simulation's flexibility with optimization techniques' robustness.
Providing readers with a comprehensive guide to tackle similar issues in industrial environments, this text explores novel ways to face industrial problems through hybrid approaches (simulation-optimization) that benefit from the advantages of both paradigms, in order to give solutions to important problems in service industry, production processes, or supply chains, such as scheduling, routing problems and resource allocations, among others.
About the Author
Miguel Mujica Mota is a researcher and lecturer at the Aviation Academy of the Amsterdam University of Applied Sciences in the Netherlands. He was previously the sub director of the aviation studies at the Autonomous University of Barcelona. He has a PhD and a MSc. in industrial informatics from the Autonomous University of Barcelona and a PhD and MSc. in operations research from the National University of Mexico, all obtained with the highest honors.
Dr. Mujica Mota has given several courses in modelling, simulation methodologies and optimization in different countries for industrial and academic audiences. He has participated in several international projects in which simulation and optimization were the key factors for the success of them.
Dr. Mujica has been awarded with the Level C of the Mexican Council of Science and Technology where he also participates as a scientific evaluator for Latin America. He is the co-author of two books and numerous papers on simulation, operations research, aviation, manufacturing and logistics. His research interests lie in the use of simulation, modelling formalisms and heuristics for the optimization and performance analysis of aeronautical operations, manufacture and logistics.
Bibliographic Information
Sumber:
https://books.google.co.id/books?id=7yr3BwAAQBAJ&dq=Applied+Simulation+and+Optimization:+In+Logistics,+Industrial+and+Aeronautical+Practice&source=gbs_navlinks_s
Informasi Pemesanan Buku:
Meiske Pratiwi
Petra Books
Jl. Guntur madu No. 9
Bandung 40264
Indonesia
Telp./Fax. (022) 7302269
HP. 082217309306
Komentar
comments