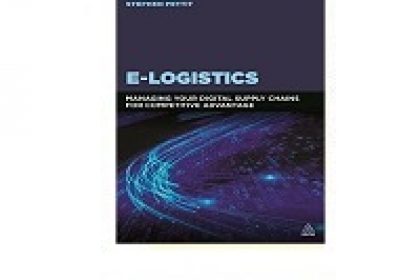 E-Logistics: Managing Your Digital Supply Chains for Competitive Advantage
by Yingli Wang (Editor), Steve Pettit (Editor)
"E-logistics" is the electronization of the logistics process.  It can result in faster shipping times, better customer service, and streamlined information within and between supply chain management companies. 
Edited by Yangli Wang and Steve Pettit, this book features international experts from both academia and industry who examine how competitiveness and productivity in transport, logistics and supply chain management can be improved using e-logistics systems and technologies.
Supported by industry case studies, chapters cover:
-Why e-logistics is so important in effective supply chain management
-The definition of ICT (Information and Communications Technology) infrastructure and its components in air freight management, rail freight management, and port management and shipping
-B2C and B2B e-commerce and e-fulfillment
-E-logistics security, ethical, and legal issues
-RFID
-E-logistics development in different sectors such as food, construction, fashion, telecommunications, and healthcare
-Global supply network visibility
-Service chain automation
-Launching a successful e-logistics business model
-The future of e-logistics and emerging technologies
Editorial Reviews
About the Author
Yingli Wang teaches logistics and operations management at Cardiff University.  For her invention of the concept of Electronic Logistics Marketplaces (ELMs), the Chartered Institute of Logistics and Transport (CILT) awarded her the James Cooper Memorial Cup.
Steve Pettit also teaches Logistics and Operations Management at Cardiff Business School. 
Product Details
Paperback: 480 pages
Publisher: Kogan Page (March 28, 2016)
Language: English
ISBN-10: 0749472669
ISBN-13: 978-0749472665
Product Dimensions: 6.1 x 1.5 x 9.2 inches
Shipping Weight: 1.1 pounds (View shipping rates and policies)
Sumber:
http://www.amazon.com/E-Logistics-Managing-Digital-Competitive-Advantage/dp/0749472669/ref=sr_1_27?ie=UTF8&qid=1455868494&sr=8-27&keywords=logistics+book+2016
Komentar
comments