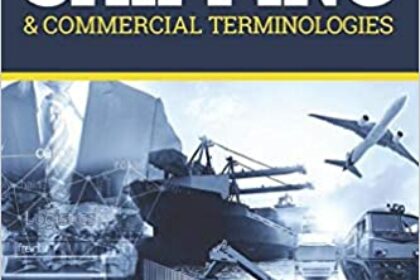 Summary
Since now, after more than 30 years of professional life, I am a visiting faculty member of various Universities and Institutes, I felt that there is dearth of proper books in this field, and I felt it as my humble duty to share whatever limited knowledge with the young students who were never exposed to subjects like Shipping, Logistics, Supply Chain Management, Commerce, Export Import Trade and their operational and legal aspects. If this book also assists the faculty members even in a limited way, then my humble efforts are fulfilled.
Logistics, Shipping and Supply Chain Management is an emerging subject of importance in an emerging country like India and similar economies. Since India is at the cusp of being a developed nation and subjects like Logistics are still at the infancy stage, lot of Universities and Institutes in India have started including these subjects at the Bachelors, Masters and diploma levels of Business Administration, Management Science, Commerce and Export & Import related subjects and this book will have, I hope, tremendous interests among the practitioners, young students and the academia not only for the global community but Indian subcontinent and SouthEast Asia specifically.
Although there are a lot of people worldwide who have guided and helped me during my career in India and abroad, to name them is a huge task. But I can't forget the help and guidance given to me during my professional life in Germany by Mr. Herbert Poetschke, Hapag Lloyd AG, Hamburg, Mr. Christian Conen, VLA-Vereinigte Linen Agenturen GmbH, Bremen and especially my well wishers in India Mr. K.C. Raman, former Director of Forbes Gokak, and Mr. Shantanu Bhatkamkar, Chairman of the ATC Logistics Group, Mumbai. But it was the persuasion from one of my cousins and a friend, Mr. Sam G. Nilamel of Nilamel Exports, an industrialist in Kerala and Kuwait, who always prompted me to write a book.
Though I commenced this hilarious exercise of bringing out this comprehensive handbook on Logistics and Shipping a couple of years back, it was a tremendous task to write, re-write, revise and edit this volume. After the main script is finalized, it is my daughter Aatira Benn John who helped me in formatting and designing this book in its present form and I am thankful to her.
Comments and suggestions from readers are welcome to improve future editions and your suggestions may be sent to my email: logisticsterms@gmail.com.
Bibliographic information
| | |
| --- | --- |
| Title | Handbook of Logistics, Shipping, & Commercial Terminologies |
| Author | Benny John |
| Publisher | Notion Press, 2019 |
| ISBN | 9781684669400 |
| Length | 336 pages |
Sumber:
https://books.google.co.id/books?id=eHSSDwAAQBAJ&source=gbs_navlinks_s
Salam,
Divisi Informasi
Komentar
comments