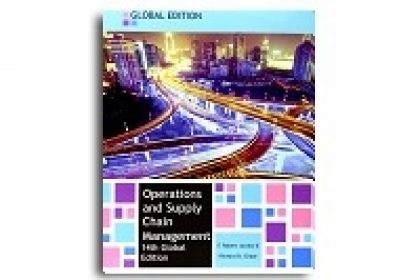 Operations & Supply Chain Management [Paperback]
by F. Robert Jacobs & Richard B Chase (Author)
Resourceful companies today must successfully manage the entire supply flow, from the sources of the firm, through the value-added processes of the firm, and on to the customers of the firm. The fourteenth Global Edition of Operations and Supply Chain Management provides well-balanced coverage of managing people and applying sophisticated technology to operations and supply chain management.
Enhancements to this new Global Edition include:
Cutting edge and up to date coverage on sustainability, lean supply chains and improving the efficiency of supply chain processes.
Each chapter is now organized by concise learning objectives, and these learning objectives are applied through the end of chapter material.
Analytics, strategy and processes material is called out in every chapter with special icons in the margin.
New chapter openers that address operations management issues in global setting. Some featured companies include: Zara, Aramex, Dixons and Kuehne + Nagel
New cases presenting data and issues faced by global businesses. Examples include the supply chain of the UK National Health Service and Toyota's operations after the Japanese tsunami.
Special Global Edition of Connect Plus Operations Management, McGraw-Hill's web-based assignment and assessment platform with eBook access, which helps students learn faster, study more efficiently, and retain more knowledge.
This Global Edition has been adapted to meet the needs of courses outside of the United States and does not align with the instructor and student resources available with the US edition.
Book Description
Publisher: Mcgraw Hill Higher Education
Language: English
ISBN-10: 0077151623
ISBN-13: 978-0077151621
Product Dimensions: 11 x 8.6 x 1.3 inches
Sumber:
Komentar
comments