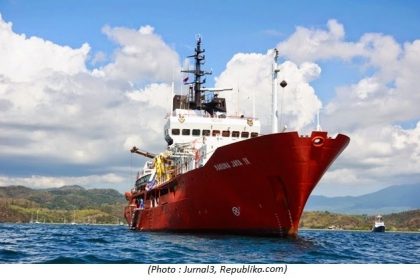 Port operators continue to question the economic and business benefits from increasingly bigger vessels, especially at ports around the Asia region.
Although the intra-Asia trade is now the world's largest ocean freight segment, representing over 60 per cent of total global container volumes, only a few ports around the region can accommodate the latest super-size vessels. This presents operational and financial challenges for terminal operators who need larger berths, bigger cranes and deeper water in order to accommodate theseincreasingly large container ships, resulting in a multi-tier system in which "bigger ships will make fewer port calls".
However, an innovative port solution for ocean freight supply chains has been implemented in Indonesia – the largest economy in South East Asia and growing at 5 per cent plus, a G20 member with population over 250 million and a one trillion dollar economy. Cikarang Dry Port is an inland dry port model that is providing an efficient and effective solution to chronic congestion and delays at the major import export gateway of Tanjung Priok.
Cikarang Dry Port
Located on Java island, just 50 km from Jakarta, Cikarang Dry Port serves as an extension of the major Tanjung Priok gateway sea port and provides integrated port and logistic facilities with on-site customs and quarantine inspection services, operating 24/7.
The first and only Integrated Customs Services Zone in Indonesia, Cikarang Dry Port occupies 200 hectares of land, including capacity for an extensive logistics park, and enjoys multi-modal hinterland connectivity through its direct access to highway and railway networks.
Source:
http://www.eft.com/column/innovative-port-solutions-ocean-freight-supply-chains
Komentar
comments