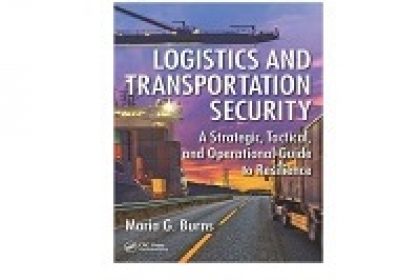 Logistics and Transportation Security: A Strategic, Tactical, and Operational Guide to Resilience
by Maria G. Burns (Author)
"Professor Burns has captured the essence of transportation security, one of today's most pressing concerns. As the rate of globalization and world trade increases, security and supply chain resilience are at the core of one's global transportation network. This is a timely and well written contribution to the industry."
―John A. Moseley, Senior Director of Trade Development, Port of Houston Authority
"…a clear and concise book detailing the issues of security in today's post-9/11 era. An invaluable read for those working within the transport and security industries."
―Steven Neuendorff, Head of Americas, HANSA HEAVY LIFT Americas, Inc.
Examining sea, land, and air transportation systems and linkages, Logistics and Transportation Security: A Strategic, Tactical, and Operational Guide to Resilience provides thorough coverage of transportation security. Its topics include hazardous material handling, securing transportation networks, logistics essentials, supply chain security, risk assessment, the regulatory framework, strategic planning, and innovation through technology.
This book is not a prescriptive how-to manual. It begins with a discussion of the differences between safety and security before advancing through a developmental learning curve encompassing a wide range of subjects. It discusses global threats such as terrorism and piracy as well as current regulatory mandates and technological applications, including the latest threat to logistics security, cyber-attack.
The book also examines the benefits of synergy between the public and private sectors, using a number of case studies and interviews to illustrate increasing collaboration and benefits. It assists a broad range of transportation professionals, security professionals, logistics outfits, and policy makers with assessing the benefits of proactive security measures and with verifying security-associated risks and consequences.
Editorial Reviews
Review
"Professor Burns's thoughtful analysis of transportation security in this book suggests that risk tolerance is a decision based on numerous factors, and does not depend on linear policy analysis. As security professionals, we should maintain that 'big picture' view while simultaneously diving deep into the assessment and management of risk."
―Captain Brian Penoyer, U.S. Coast Guard, sector commander and captain of the port, US Coast Guard Sector, Houston-Galveston, Texas
"Timely and relevant, Logistics and Transportation Security is a comprehensive and thought-provoking assessment of the expanding and ever-changing hazards and threats to global supply chains and the transportation industry as a whole. Professor Maria Burns proffers concrete analysis and cogent recommendations to achieve increased security resilience in an increasingly complex threat environment. I heartily recommend Burns's work―it is a very worthwhile read and will serve as a significant resource for leaders in the logistics and transportation industries and for security professionals throughout our nation."
―Kevin Clement, Texas Office of Homeland Security
"Professor Burns has captured the essence of transportation security, one of today's most pressing concerns. As the rate of globalization and world trade increases, security and supply chain resilience are at the core of one's global transportation network. This is a timely and well written contribution to the industry."
―John A. Moseley, senior director of trade development at Port of Houston Authority
"In her new book, Professor Burns covers one of the most important subjects of the 21st century: security, as related to transportation and logistics systems and analyzing topics such as global transportation, regulatory framework, infrastructure, hazardous materials, supply chain, risk assessment and analysis, global collaboration, technology and innovation. Professor Burns further covers another extremely important subject, the human factor, in connection with strategic, tactical and operating processes and the future of transportation and supply chain networks. I strongly believe that this book should be in the hands of all transportation related employees and managers."
―Capt. George M. Pontikos, vice president of port operations, Odfjell USA (Houston) Inc.
"Influenced by geopolitics, the importance of maritime security of the supply chain is ever-increasing, though it was always an integral part of commercial shipping. Prof. Burns has shed new light on this complex and evolving field where security of the supply chain is being targeted as a geopolitical tool, breaking it down to the key elements. This outstanding contribution by Maria is an essential read in understanding the various strategic and tactical objectives for every supply chain professional involved in the maritime sector."
―Capt. Anuj Chopra, FNI ExC, VP Americas, RightShip
"Prof. Burns has taken a comprehensive look at the global transportation system, and identified the strengths and vulnerabilities of its security to human life, the environment, and the global economy. She further presents suggestions for insuring that the importance of security, both physical and cyber, is fully understood so that stakeholders can take prudent action to ensure the viability and continuity of our transportation system."
―Carleen Lyden-Kluss, co-founder/executive director, North American Marine Environment Protection Association (NAMEPA)
"Professor Burns has authored a clear and concise book detailing the issues of security in today's post-9/11 era. An invaluable read for those working within the transport and security industries."
―Steven Neuendorff, Head of Americas, HANSA HEAVY LIFT Americas, Inc.
"Prof. Burns does an outstanding job in presenting the critical importance of ports in the supply chain and the need for security, in a global market that moves 80% of its goods via sea transport, while increasingly depending on digital, high-tech platforms. She discusses the most common forms of attack, actors involved, and procedural gaps and offers a set of new approaches to risk management. Twelve critical issues are identified as the foundations of security and Prof. Burns masterfully explains their complex interaction for security resilience and sustainability, including the collaborative relationship between the state and the private sector that must take place to ensure competitiveness, and their symbiosis with security at both the national and international levels."
―Jorge Durán, Chief of the Secretariat Inter-American Committee on Ports (CIP) Organization of American States, Washington DC
About the Author
Maria Burns, PhD, is an experienced ship operator, auditor and trainer whose work has been awarded by the US Coast Guard. Prof. Burns earned her PhD in environmental studies at Vrije University, Brussels. She is a certified maritime auditor who has provided consulting, instruction, and certified training to public and private organizations, and had an Honorary Membership bestowed upon her in 2012 for developing advanced training in the oil, gas, and marine industries. She is the Chair of the US Transportation Research Board of National Academies Subcommittee on Transportation Security, under the Critical Transportation Infrastructure Protection Committee. She is also an editorial board member of the Journal of Transportation Security, a reviewer for the Journal of Environmental Management, and an active member of several maritime organizations.
Product Details
Hardcover: 412 pages
Publisher: CRC Press (November 6, 2015)
Language: English
ISBN-10: 1482253070
ISBN-13: 978-1482253078
Product Dimensions: 9.2 x 6.1 inches
Shipping Weight: 1.7 pounds (View shipping rates and policies)
Source:
http://www.amazon.com/gp/product/1482253070?keywords=logistics%20book%202015&qid=1445834295&ref_=sr_1_19&sr=8-19
Komentar
comments