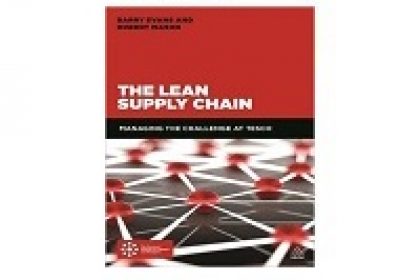 The Lean Supply Chain: Managing the Challenge at Tesco
by Barry Evans (Author), Robert Mason (Author)
ISBN-13:
978-0749472078 
ISBN-10:
0749472073
At Tesco, one of the leading global retailers, senior leadership made a simple, but game-changing, decision to focus the business on its customers rather than the conventional approach of "competing with our competitors." Their strategy was deployed by building world-leading retail and supply chain operations that are both effective in delivering what customers wanted and efficient in performance and cost metrics.
The Lean Supply Chain explores how the retailer used lean thinking, loyalty and simplicity and grew under a determined supply chain strategy to achieve their dominant UK and global position.  Logistics professionals Evans and Mason look at Tesco's origins, the development of their supply chain, the continuous improvement and current developments. They include examples of Tesco's successful operations, including their rapid roll-out of store-based grocery home-delivery and the change of focus from supermarket and hypermarket development to building a network of neighborhood convenience stores and mid-sized stores in cities — Tesco Metro and Tesco Express stores.
With examples and advice for supply chain management professionals, this book uncovers why Tesco is as successful as it is today and how they did it.
Product Details
Paperback: 272 pages
Publisher: Kogan Page (September 28, 2015)
Language: English
ISBN-10: 0749472073
ISBN-13: 978-0749472078
Product Dimensions: 6.1 x 9.2 inches
Shipping Weight: 1 pounds (View shipping rates and policies)
Sumber:
http://www.amazon.com/Lean-Supply-Chain-Managing-Challenge/dp/0749472073/ref=sr_1_46?ie=UTF8&qid=1440731450&sr=8-46&keywords=logistics+book+2015
Komentar
comments