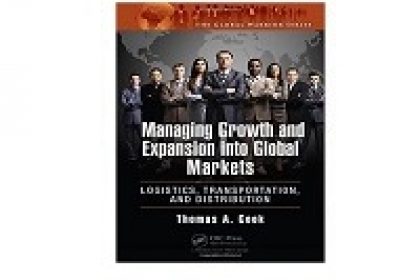 Managing Growth and Expansion into Global Markets: Logistics, Transportation, and Distribution (The Global Warrior Series)
by Thomas A. Cook (Author)
Company executives in every field are recognizing the critical importance of entering into the global economy. As transportation and logistics companies follow their clients' expansion into these international markets, they must be able to service their clients' supply chain needs in new economies and turbulent markets.

Managing Growth and Expansion into Global Markets addresses the unique logistical, transportation, and distribution issues surrounding growth and expansion into global markets. It supplies a full overview of contemporary management assessment tools, to provide an understanding of exactly what it takes to enter foreign markets and avoid common pitfalls.
Distilling the author's decades of experience in global supply chain management and international business, this book is ideal for those looking to grow and develop their global supply chains.
The book details the benefits and drawbacks of both organic growth and merger and acquisitions into global markets. It illustrates the most common types of problems that occur during mergers and acquisitions and describes exactly what you can expect during the transition period.
Explaining why some organizations transition new business units successfully while others struggle, this book will help you properly assess your best options to grow your organization and expand your supply chain capabilities.
The book examines the array of legal and regulatory implications that you need to review, understand, and bring into your decision-making process. It also provides specific answers, strategies, and a best-practice outline that you can follow.
A must-read for anyone involved with global growth and expansion in the supply chain arena, this book is also an ideal tutorial to help students and business-school attendees gain practical insights into global supply chain issues.
Editorial Reviews
About the Author
Thomas A. Cook has been involved in domestic and global business for over 35 years in an array of supply chain management and international business trades. He graduated from Maritime College at Fort Schuyler, New York, where he holds a BS degree in transportation science and a graduate degree in transportation and business management.
His career began in the US Naval Reserve and the US and Dutch Merchant Marine, where he served as an officer in various commercial and military capacities on passenger, tug, oil, chemical, break bulk, and container vessels all over the globe.
He has authored over 225 articles and published 15 books on international trade, with three of the latest as follows: Post 911 "Compliance in Today's Global Supply Chain", Mastering Import and Export Management, Purchasing Management, and Driving Risk and Spend out of the Supply Chain.
Thomas A. Cook has lectured all over the world on varied subjects involved with global trade. He is considered by many leading professionals to be top in the field of global logistics and international operations.
Product Details
Series: The Global Warrior Series (Book 9)
Hardcover: 352 pages
Publisher: CRC Press (September 18, 2015)
Language: English
ISBN-10: 1482259176
ISBN-13: 978-1482259179
Product Dimensions: 1 x 6.5 x 9.2 inches
Shipping Weight: 1.6 pounds (View shipping rates and policies)
Contents
Chapter 1 Understanding the Business Model for Growth and Expansion on a Global Basis
Chapter 2 Unique Challenges of Supply Chain
Chapter 3 Organic Growth versus Merger and Acquisition
Chapter 4 Strategic Planning
Chapter 5 Management Assessment Tools
Chapter 6 Anticipated Merger and Acquisition Problems
Chapter 7 Problem Resolution Strategies
Chapter 8 Transition Management
Chapter 9 Legal and Regulatory Considerations
Chapter 10 Trade-Compliance Issues in Global Expansion and Mergers and Acquisitions Activities
Chapter 11 Best Practices in Global Expansion
Sumber:
http://www.amazon.com/Managing-Growth-Expansion-Global-Markets/dp/1482259176/ref=sr_1_112?ie=UTF8&qid=1446195964&sr=8-112&keywords=logistics+book+2015
Komentar
comments