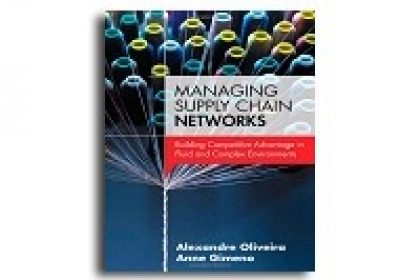 Managing Supply Chain Networks:
Building Competitive Advantage In Fluid And Complex Environments
(FT Press Operations Management) [Hardcover]
Alexandre Oliveira (Author), Anne Gimeno (Author)
USE KNOWLEDGE AND INNOVATION TO MAXIMIZE VALUE FROM TODAY'S SOPHISTICATED, FAST-CHANGING SUPPLY NETWORKS
Build integrated, complementary supply networks that work together to win
Accelerate the cycle from needs identification to product/service launch to customer experience
Create long-term strategy adherence to the business that competes in fluid environments
Leading companies are developing powerful new techniques for managing today's complex, fluid supply networks. Now, Alexandre Oliveira and Anne Gimeno help you apply these techniques to embed greater agility, resilience, speed, and intelligence throughout your own supply chain network.
Oliveira and Gimeno review how supply chains have changed, how they will change, and the radically new challenges and opportunities arising from these changes. Next, they show how to drive value by capturing and sharing your network's knowledge far more effectively, and using it to drive innovations that strengthen the entire network.
Going far beyond previous models, they guide you in improving interactions across all knowledge areas, functional supply chain building blocks, business structures, tactics, and external elements–including suppliers, customers, service providers, competitors, and non-competitors.
Today, individual companies don't compete: their supply chain networks do. Winning businesses must be capable of sensing and anticipating market shifts, and rapidly aligning their networks in response. In a word, their networks must be wiser.
In this guide, leading practitioners Alexandre Oliveira and Anne Gimeno show how to embed actionable wisdom throughout your own complex supply network. You'll learn how to create multi-company structures that promote the long-term success of your entire network, and how to accelerate innovation by leveraging knowledge and ideas from all network sources.
Using practical examples, Oliveira and Gimeno demonstrate how to evolve more resilience and elasticity, building a network that can respond more quickly and coherently to any new risk, opportunity, problem, or trend.
Managing Supply Chain Networks is invaluable to any strategist, executive, manager, or advanced student who wants to drive greater value and competitiveness from a complex supply chain network.
PRESENTING AN EVOLUTION TO PORTER´S FIVE FORCES MODEL
Detailing how to add value to shareholders and stakeholders in highly competitive business environments
BUILDING INNOVATION-ENABLED KNOWLEDGE LEADERSHIP INTO YOUR NETWORK
Strengthening long-term knowledge development and retention across your network
IMPLEMENTING MECHANISMS THAT INCREASE NETWORK RESPONSIVENESS
Optimizing connections, architecture, functions, and human interactions
MANAGING RISK MORE SUCCESSFULLY IN NETWORK ENVIRONMENTS
Transcending limited "firm-centered"risk management strategies
PROMOTING GREATER COLLABORATION ACROSS YOUR NETWORK
Using visibility, vendor selection, culture, governance, and other method

Book Description
Hardcover: 192 pages
Publisher: Pearson FT Press; 1 edition (July 3, 2014)
Language: English
ISBN-10: 0133764400
ISBN-13: 978-0133764406
Product Dimensions: 9 x 6.1 x 0.9  inches
Sumber:
Komentar
comments