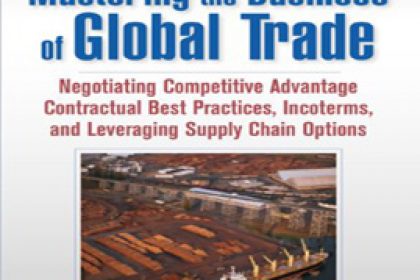 Much of your company's success in global trade will be determined by how well you manage contracts and agreements for sale or purchase. Mastering the Business of Global Trade: Negotiating Competitive Advantage Contractual Best Practices, INCO Terms, and Leveraging Supply Chain Options explains the key elements any international business person must know, but more importantly, it also describes how to use negotiation skills, leveraged options, and Incoterms to extract the maximum benefits from your supply chain.
At the end of the day, landed costs determine pricing and profits. As such, the book clearly explains how landed cost modeling works and how you can use these business models to leverage supply chain options. Illustrating how Incoterms impact compliance and risk, it details options to help you reduce your exposure to risk as well as best practices to help you steer clear of compliance issues that can cause costly delays.
Managing global supply chains is about constantly striving for efficiency, driving down costs, and increasing profits. With this book, you will not only learn how to negotiate better contracts, but you will also learn how to manage relationships with freight forwarders and customhouse brokers in a manner that will help you get the most value from your service agreements.
The book establishes a very simple, yet comprehensive, roadmap that both the neophyte and the more experienced global supply chain executive can easily follow and master. By following the time-proven advice and roadmap detailed in these pages, you will learn that it is possible to engage in more deals and increase your returns, while reducing your overall risk exposure.
Published:
February 5, 2014 by CRC Press
Content:
405 Pages | 102 Illustrations
Source: http://www.crcpress.com/product/isbn/9781466595781
Komentar
comments