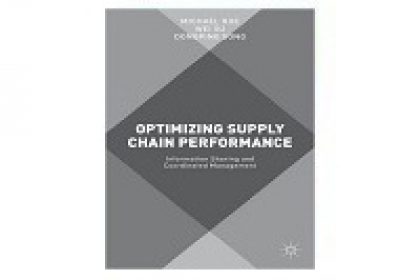 Optimizing Supply Chain Performance: Information Sharing and Coordinated Management
ISBN-13: 978-1137501134 ISBN-10: 1137501138
Supply chain management has attracted much attention in the last decade. There has been a noticeable shift from a traditional individual organization-based management to an integrated management across the supply chain network since the end of the last century. The shift contributes to better decision making in the supply chain context, as it is necessary for a company to cooperate with other supply chain members by utilising relevant information such as inventory, demand and resource capacity. Optimizing Supply Chain Performance takes industrial case studies from SMEs in China to examine the importance of information sharing and coordinated management as essential mechanisms to improve supply chain performance.
Editorial Reviews
About the Author
Michael Roe is Professor of Maritime Governance at Plymouth University, UK, with research interests in policy-making in the maritime sector and supply chain management. He has published over 15 other books and numerous research papers.Dongping Song is Professor of Supply Chain Management at the University of Liverpool Management School, UK. His research interests include modelling, control and optimization of container shipping logistics, supply chain systems and manufacturing and service systems with uncertainties. He has widely published in supply chain management.
Wei Xu is a founder of Broadtek Innovation Ltd (BTI) and China Material System Cooperation (CMSC). Her research focuses on Supply Chain Performance Optimisation. Her industrial expertise is in technology management and transfer for 3D Printing and materials for the health care industry.
Product Details
Hardcover: 232 pages
Publisher: Palgrave Macmillan (July 8, 2015)
Language: English
ISBN-10: 1137501138
ISBN-13: 978-1137501134
Sumber:
http://www.amazon.com/Optimizing-Supply-Chain-Performance-Information/dp/1137501138/ref=sr_1_104?ie=UTF8&qid=1435654099&sr=8-104&keywords=logistics+2015
Komentar
comments