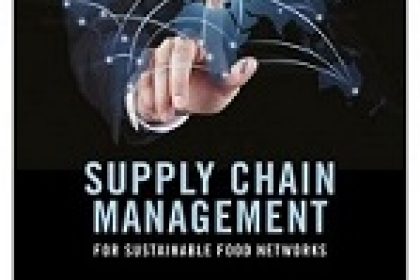 Summary
Supply Chain Management for Sustainable Food Networks provides an up-to-date and interdisciplinary framework for designing and operating sustainable supply chains for agri-food products. Focus is given to decision-making procedures and methodologies enabling policy-makers, managers and practitioners to design and manage effectively sustainable agrifood supply chain networks.
Authored by high profile researchers with global expertise in designing and operating sustainable supply chains in the agri-food industry, this book:
Features the entire hierarchical decision-making process for managing sustainable agrifood supply chains.

Covers knowledge-based farming, management of agricultural wastes, sustainability, green supply chain network design, safety, security and traceability, IT in agrifood supply chains, carbon footprint management, quality management, risk management and policy- making.

Explores green supply chain management, sustainable knowledge-based farming, corporate social responsibility, environmental management and emerging trends in agri-food retail supply chain operations.

Examines sustainable practices that are unique for agriculture as well as practices that already have been implemented in other industrial sectors such as green logistics and Corporate Social Responsibility (CSR).
About the Author
Informasi Pemesanan 

Buku

:
Komentar
comments