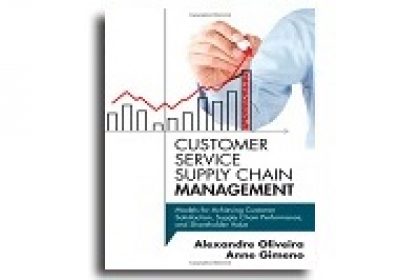 Customer Service Supply Chain Management:
Models for Achieving Customer Satisfaction, Supply Chain Performance, and Shareholder Value
(FT Press Operations Management) [Hardcover]
Alexandre Oliveira (Author), Anne Gimeno (Author)
DRIVE MORE VALUE FROM YOUR SUPPLY CHAIN BY IMPROVING THE WAY YOU MANAGE CUSTOMER SERVICE
Optimize linked interactions across your entire customer service environment
Implement customer-centric strategies, including customer-based supply chain segmentation and lifelong customer logistics management
Use the business-driven customer service model to align customer services management to business goals, and measure your progress
Customer Service Supply Chain Management offers expert guidance for managing your supply chain to deliver more innovative and profitable customer experiences.
Pioneering supply chain management experts Alexandre Oliveira and Anne Gimeno provide a comprehensive overview of the topic, detailed descriptions of each high-value approach, and modern applications and best practices proven at leading companies worldwide. Complementing theoretical texts, they offer deep knowledge of how pioneering customer service management techniques are actually applied in the field.
This book's content will be exceptionally helpful to both practitioners and students in all areas of supply chain management, customer service, and marketing, including participants in leading certification programs.
To build a truly customer-centric business, you must integrate, balance, and optimize four sets of relationships: product, customer, service, and process. By doing this, you empower your business to deliver the high-profit solutions your customers really want: personalized packages of products, services, support, education, and consulting.
Customer Service Supply Chain Management offers a complete model and blueprint for achieving these goals. Global supply chain innovators Alexandre Oliveira and Anne Gimeno show how to systematically address key issues ranging from organizational structure, governance, and strategy to day-to-day tactics and operations.
Oliveira and Gimeno help you assess where you stand now, identify gaps and priorities, and move rapidly towards greater effectiveness. They introduce realistic examples, applications, and best practices: all designed to help you translate theory into practice, and practice into profits.
USE CUSTOMER SERVICE SUPPLY CHAIN MANAGEMENT TO:
GROW SALES VOLUME:
Increase market share
Accelerate revenue cycles
Reduce lost sales
Support marketing and sales initiatives
IMPROVE CUSTOMER EXPERIENCE:
Add customer value
Optimize cost to serve
Deliver the right service at the right cost
GROW MARGINS:
Reduce cost of sales
Improve asset management
Balance service levels and cost structures
Book Description
Hardcover: 208 pages
Publisher: Pearson FT Press; 1 edition (July 6, 2014)
Language: English
ISBN-10: 0133764397
ISBN-13: 978-0133764390
Product Dimensions: 9.2 x 6.2 x 0.9 inches
Sumber:
Komentar
comments